Greg Spaulding | Assistant Professor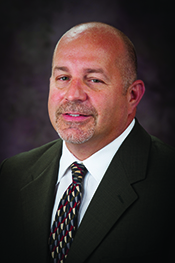 M.S. – 1984, Kansas State University
Mechanical Engineering
B.S. – 1980, Kansas State University
Mechanical Engineering
Contact information
3042 Rathbone Hall
785-532-5610
gspauld@k-state.edu
Professional experience
Professor Greg Spaulding received a B.S. Degree in Mechanical Engineering from Kansas State University in 1980. From 1980 to 1983 he worked at General Dynamics and was assigned to Mechanical / Hydraulic System Analysis, specifically involved in working on the update of the F-16 fighter aircraft. In 1983, he returned to Kansas State University where he received a MS Degree in Mechanical Engineering in the area of Automated Control Systems. Upon completion of this degree he returned to industry, working as a Research Engineer at Houston Instruments. Where he was intimately involved in the development of a digital control system for the new generation plotters, and received a patent for his work in development of a tensioning system for belt drives. After four years at Houston Instruments Prof Spaulding returned to Kansas to pursue his dream of starting his own company, this dream resulted in the company, ScriptPro. Spaulding cofounded and served as President and Head of Engineering for this start-up. The company developed an automation system for pharmacies that is currently used worldwide. For this work he was awarded a patent. After the sale of the company in 1996 Spaulding took a teaching position at Kansas State – Salina in the Mechanical Engineering Technology Department where he taught for twelve years rising to the rank of Full Professor before transitioning to the Manhattan Campus in 2007. Professor Spaulding is also a Registered Professional Engineer in the State of Kansas.
Research
Spaulding's research targeted the applied research with application to Industry. Some of the companies that Spaulding has worked with are:
Caterpillar, Philips Lighting, Koch Industries, Tony's, El Dorado Bus, Great Plains Manufacturing, Grain Belt, Bradbury, Orthopedic Research Institute, Pop-A-Shot, Johnson Rock, Premier Pneumatics Inc., Mid-States Energy Works, Johnson Rack, Geoprobe Inc., Makovec Construction, Grasshopper, Kelso Oil, Exline, Garmin, John Deere, SPX.
Academic highlights
Prof Spaulding has authored and presented several papers on undergraduate education. As well as received awards for His teaching.
Kansas State University, College of Technology, Marchbanks Award for Teaching Excellence 2007
Kansas State University, College of Technology, Faculty of the Year 1997
Nominated for Outstanding Adviser – 2003
Nominated for Outstanding Faculty – 2004
Selected as an "Engaging Teacher" by Distinguished Faculty, Dr. Jana Fallin.