Welcome from Steven Eckels, Professor and Interim Department Head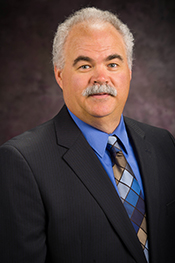 Fall 2019
Welcome to the 2019-2020 school year. I wanted to highlight the name of our Department has been changed to the Alan Levin Department of Mechanical and Nuclear Engineering. This is in recognition of the generous donations of Alan Levin who has shown a passion for educating the next generation of leaders in Kansas and the Nation. I wanted to highlight some of the faculty additions we have this fall.
It is my pleasure to share that Dr. Raj Kumar Pal will be joining our department as a full-time Assistant Professor. Dr. Pal is well versed in computational mechanics, solid mechanics and wave propagation. Furthermore, he has research experience in topics including granular media, large deformation elasticity and dynamics of architected materials or meta-materials.
We are also pleased to introduce Dr. Scott Thompson as part of our Department. Dr. Thompson comes to Kansas State University, from Auburn University He is well versed in additive manufacturing; high heat flux thermal modeling & management; energy harvesting & conversion; heat pipes; microscale & nanoscale thermal/fluid science; passive flow control.
Dr. Mohammadhosein Ghasemi Baboly is also joining our department as a full-time Instructor for the fall semester. Dr Baboly comes from University of Jamestown. He is well versed in Solid mechanics, dynamic systems areas and fabrication/characterization of MEMS.
Dr. Scott Fan will be joining the Department. Dr. Fan brings a strong teaching and research background. Distinguished Professor of the Mechanical Engineering Department and Researcher of the Center for Biotechnology in National Taiwan University (NTU), Taiwan. He will be teaching Heat Transfer, Fluid Mechanics, Thermodynamics, Biomedical Nano-Electro-Mechanical Systems, Mechanics of Materials, Miniaturization Engineering, Surface and Intermolecular Forces, Introduction to Nanotechnology.
Our student competition teams had an outstanding year in 2018-2019. Please take a few moments read some of the articles written about our design teams. If you are a student and wish to join these teams, please reach out to our MNE office and we can connect you with the student leaders.
If you have any questions about becoming an undergraduate or graduate student in the Alan Levin Department of Mechanical and Nuclear Engineering, please call or email as we would enjoy talking with you.
Sincerely, Steven Eckels
Professor and Interim Department Head
Alan Levin Department of Mechanical and Nuclear EngineeringKansas State University