Gurpreet Singh | Professor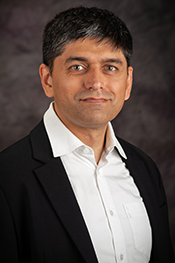 Harold O. and Jane C. Massey Neff Professorship in Mechanical Engineering
Ph.D. – 2007, University of Colorado
Mechanical Engineering
M.S. – 2006, University of Colorado
Mechanical Engineering
B.E. – 2003, Govt. College of Engineering Pune
Mechanical Engineering
Contact information
3018 Rathbone Hall
785-532-5610
gurpreet@k-state.edu
Schedule
Professional experience
Dr. Gurpreet Singh received his B.S. in Mechanical Engineering from Government College of Engineering Pune in India. He then went on to pursue M.S. (thesis option) and PhD degrees in Mechanical Engineering from University of Colorado at Boulder in 2006 and 2007, respectively. He then worked as postdoctoral associate at Institute of Critical Technologies at Virginia Tech before joining Kansas State in August 2009.

Research
Singh runs the NanoScience and Engineering Lab. He works in the area of nanotechnology with a focus on processing-structure-property characterization of two-dimensional materials and molecular precursor derived ceramics for energy-based devices. Singh's research on liquid phase exfoliation of 2-D crystals to generate atomically thin sheets of graphene oxide, tungsten and molybdenum disulfide for high capacity metal-ion batteries has appeared in top American Chemical Society and Nature journals. Singh has >140 technical publications (journal papers, conference papers, patents, books and technical abstracts) to his credit.
Video about Dr. Singh's research.

Academic highlights

NSF CAREER (2015-2020)
NSF EPSCoR First Award (2011-2012)
Invited Speaker at NSF CAREER workshop 2015
Associate Editor of Nanomaterials and Energy Journal (2011-2012)
Member of the Editorial Board, Nature-Scientific Reports (2013-present)
Member of the Editorial Board, American Ceramic Society Bulletin (October 2015-)
Member of the Editorial Board (September 2015-): Nanomaterials and Nanotechnology Journal