Byron W. Jones | Professor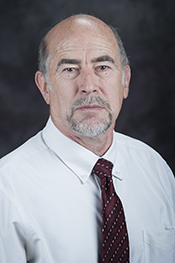 Director, National Gas Machinery Laboratory
Ph.D. – 1975, Oklahoma State University
Mechanical Engineering
M.S. – 1973, Oklahoma State University
Mechanical Engineering
B.S. – 1971, Kansas State University
Mechanical Engineering
Contact information
3018 Rathbone Hall
785-532-5610
jones@k-state.edu
Schedule

Professional experience
Byron Jones is a licensed professional engineer with more than 40 years of experience. After receiving his Ph.D. in 1975, Jones went to work for the Montana Energy and MHD Research and Development Institute as a senior systems analyst. He joined the K-State mechanical engineering faculty in 1978 and has continued in that role since that time. At K-State, Jones has held several positions including head of mechanical and nuclear engineering, associate dean for research and graduate programs, director of the engineering experiment station, drector of the Institute for Environmental Research, director of the National Gas Machinery Laboratory and director of the state of Kansas DEPSCoR program.
Research
During his tenure at K-State Jones has conducted research on a variety of topics including human thermal engineering, evaluation and modeling of heat and moisture transport in clothing, transportation vehicle environmental control systems, turbo machinery and thermal storage, and has been principal investigator or co-principal investigator for more than 50 research projects. His current research addresses detection of contamination in bleed air on aircraft. Bleed air is air provided by the aircraft engines for use in cabin pressurization and ventilation. This work is a continuation of aircraft cabin air-quality research conducted through the FAA Airliner Cabin Environment Research Center of Excellence where Jones served as technical director. A separate, recent line of research has addressed performance evaluation of turbochargers with application to large industrial, rail and marine engines.
Research keywords
Aircraft Air Quality, Aircraft Bleed-Air Contamination, Transportation Vehicle Environmental Control Systems, Human Thermal Engineering, Turbochargers
Academic highlights

Jones is the author or editor of chapters in four engineering handbooks, author of chapters in several other technical books, author of one textbook and co-author of a second book. He has authored numerous journal and conference papers. He is a member of the Society for Automotive Engineers, a Life Member of the American Society of Mechanical Engineers, and a Fellow and Life Member of the American Society of Heating, Refrigerating and Air- Conditioning Engineers. He has served as a distinguished lecturer for both ASME and ASHRAE. He is the recipient of the Louise and Bill Holladay Distinguished Fellow Award, the Standards Achievement Award and the Ralph G. Nevins Award, all from ASHRAE. He is also the recipient of the K-State College of Engineering Research Excellence Award. He has supervised more than 40 M.S. and Ph.D. students.