Amy Betz | Associate Professor
Assistant Dean for Retention, Diversity and Inclusion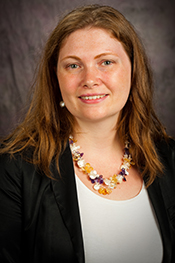 Ph.D. – 2011, Columbia University
Mechanical Engineering
M.S. – 2008, Columbia University
Mechanical Engineering
B.S. – 2006, The George Washington University
Mechanical Engineering
Contact information
1093 Fiedler Hall
785-532-5440
arbetz@k-state.edu

Professional experience
Amy Betz received her bachelor's degree in mechanical engineering from the George Washington University and her master's and doctoral degrees from Columbia University. In 2011, she moved from the Big Apple to the Little Apple and began developing the Multiphase Microfluidics Laboratory. Prior to her academic career, Betz worked in the hospitality industry as a manager of a recreation facility, a restaurant and a spa in a five-star hotel.

Research
Betz's research investigates multiphase processes such as boiling, condensation, and frost formation. All of these processes span several time and length scales. Betz's research focuses on the microscale, including phenomena such as nucleation. She is particularly interested in the area of engineered surfaces to control transport phenomena. One active project is the effect of biphilic (mixed hydrophobic and hydrophilic regions) to control freezing.

Academic highlights
Betz's research has been featured on "Science 360", "Discovery News" and "Eureka Alert". She has received funding from the National Science Foundation, the Nuclear Regulatory Commission and the Electrical Power Affiliates Program. In 2012, she received the K-State Mentoring Fellowship and she was the 2016 recipient of the KAWSE Recognition Award for her efforts to enrich the lives of girls and women in STEM disciplines. Betz also presents the Plenary Workshop at the Third Annual Big XII Teaching and Learning Conference.