New design suite puts student teams on fast track to success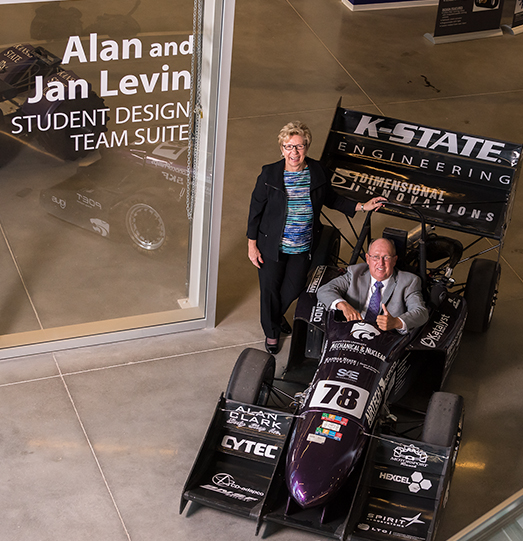 The Kansas State University students on Powercat Motorsports design-build team are enjoying their home in the newly opened Engineering Hall. With a gift to name the Student Design Team Suite, Alan and Jan Levin helped elevate the student team experience and create new opportunities.
For the Powercat Motorsports team, which designs, builds, tests and races a car under Formula SAE competition rules, the new space will make all the difference.
"Because we now have a space on campus, students can stop in and work for an hour in between classes and have more access to departmental and college resources," said Kevin Wanklyn, instructor in mechanical and nuclear engineering and adviser for the Powercat Motorsports team. "There will also be better synergy between the different student teams working in that space, to see if we can share resources and be more economically efficient."
Levin, a 1969 mechanical engineering graduate, said the College of Engineering gave him "a home and a goal in life," and he hopes to pay it forward to the next generation.
"There are so many people out there who can succeed if they just have someone give them a helping hand," Levin said. "And if they succeed, then that's just a benefit to us all."
Each year, the Powercat Motorsports team benefits from donated time and materials from dozens of corporate partners. That support makes it possible for the team to enter an international competition each year in Brooklyn, Michigan.
"We can't build this car from the ground up every year without help from our sponsors. That is pivotal for our group," Wanklyn said. "We are thankful."
Gifts to support the Alan Levin Department of Mechanical and Nuclear Engineering also advance Innovation and Inspiration, the $1 billion campaign for Kansas State University. Through investment from alumni and friends, the campaign will help the College of Engineering and K-State reach new heights.
To learn how you can invest in the Alan Levin Department of Mechanical and Nuclear Engineering, please contact the engineering development office at 785-532-6266 or engineering@ksufoundation.org.