Education that kept Kansans safe in turbulent times

PROTECTING THE PEOPLE
Education that kept Kansans safe in turbulent times

By Rosanna Vail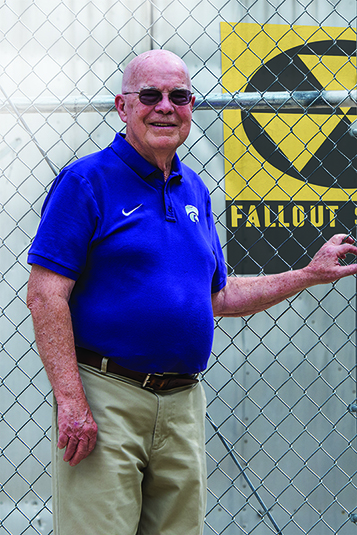 Early morning, 1963: Jerry Boettcher loads up the back of a van with a concrete container of radioactive samples. He ties down the cargo securely and prepares for a long drive. It's his routine.
Boettcher, originally from Beloit, Kansas, was a nuclear engineer who didn't want to spend the rest of his life in a laboratory. At a time of national and global tension following the Cuban Missile Crisis of the early 1960s, he took a job at Kansas State University to teach people how to build fallout shelters statewide. The program started through a grant from the U.S. Department of Defense.
"I was in a different town every night," Boettcher said. "It was a lot of work, all that driving. I was living in Manhattan, Kansas, so if you go somewhere like Colby, Kansas, that's 270 miles."

Boettcher's work began shortly before K-State established the Division of Continuing Education — now Kansas State University Global Campus — out of the university's extension roots. At the time, long-distance driving was critical to bringing knowledge to Kansans. Boettcher reached people in all corners of the state who could use what they learned to make their homes and communities safer during uncertain times.

"They represented a good cross-section of the community," Boettcher said. "There were public employees, city employees or somebody from a hospital or a university. The subject was interesting to me, and my challenge was to try to make it interesting to them so they could feel comfortable instructing others."

Part of the class required an overnight stay in a designated fallout shelter in the community, an experience that helped people understand the gravity of fallout shelter safety. The community typically identified the building where they would take shelter during an emergency, and Boettcher discussed structural enhancements for safety that were feasible for them to make.

"The class focused on an understandable level of communication," he said. "You need to have a conversation about why a fallout shelter that's made of wood is no good because it's not very dense. Concrete is denser. Or maybe there are too many windows. You can't just designate a certain building or room in your house."

Boettcher also provided instruction about the subsequent radiation from debris after a blast and residual radiation that could be wind-borne. He used the radioactive samples he packed as part of a class exercise to identify dangerous materials. His teaching had results.
"Anyone who's been a teacher has had an experience where you're talking to your class, and for some reason, you're not getting through," Boettcher said. "Then when you look back, they've got a different look on their face completely. They just got it. I could tell from the expressions on their faces."
After his work in the program, Boettcher developed a career as an investment analyst, later becoming president of several corporations in the Beloit area. He has served in leadership roles through Kansas State University and was appointed to the Kansas Board of Regents in 2007, continuing his dedicated role in Kansas education.
Learning through difficulty

"The biggest class I had, about 40 people, was in Dodge City, Kansas. I remember that because I was unloading the car at my motel when I turned on the TV and heard Walter Cronkite saying the president (Kennedy) has been shot. I had to make a decision on the spot whether to have class. We weren't in the days of email. Because many people drove from other communities, I would have had to have stayed just to say, 'We're not having class.' So we went ahead and had a class that morning." — Jerry Boettcher



SUPPORTING STUDENTS, POSTWAR

Bill Lockhart was part of Kansas State University's efforts to help educate soldiers in the U.S. Army returning brigade during the Vietnam War. He wrote a proposal for a program that would help military students complete the General Educational Development test, or GED, and move closer to postwar career success.

Lockhart's staff collected information and supplementary tests, serving students in the program for 13 years. They wrote to every state and territory in the U.S. government to obtain post-high school educational materials. Lockhart kept a folder for each location.

"My best story is a guy who came in and said he wanted to be an architectural technician," Lockhart said. "I said, 'Where are you from?' He said, 'Guam.' I had no folder for Guam yet."

Lockhart found that students wanted to talk not only about what they needed to learn for the GED, but what they hoped to do after they received it. His role grew into a listener and supporter of students needing someone who understood their lives in the military and their working-class backgrounds.

"The thing I didn't understand when I started was how much counseling you would do in a program like this," he said. "A lot of them wanted to get a GED so they could get a job and not be on welfare. They were singing my song. And that's exactly what we did."