Melanie Derby | Assistant Professor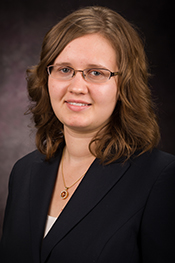 Hal and Mary Siegele Professorship in Engineering

Ph.D. – 2013, Rensselaer Polytechnic Institute
Mechanical Engineering
M.S. – 2010, Rensselaer Polytechnic Institute
Mechanical Engineering
B.S. – 2008, Rensselaer Polytechnic Institute
Mechanical Engineering

Contact Information:
3029 Rathbone Hall
785-532-2606
derbym@k-state.edu
Schedule
Professional Experience
Dr. Melanie Derby received her B.S. degree in Mechanical Engineering from Rensselaer Polytechnic Institute in 2008. She then joined an Office of Naval Research-sponsored MURI project at RPI for graduate study, under the direction of Profs. Michael Jensen and Yoav Peles. At RPI, she studied condensation heat transfer and received her M.S. in 2010 and Ph.D. in May 2013. In August 2013, she joined the faculty at Kansas State University and researches problems pertaining to the thermal and fluids, multi-phase flows, and buildings. She is a Kansas State University College of Engineering Keystone Research Faculty Scholar.
Research
Dr. Derby's runs the Cooling and Heating Innovation Lab. Her research focuses on technical problems in the thermal fluid sciences which have unanswered fundamental problems and applications to industry. Her areas of expertise includes multi-phase flows, phase change, and building energy. She directs a team of talented and motivated graduate and undergraduate students at KSU, and her research group is conducting research on condensation heat transfer, oil-water flows, dehumidification, humidification, and the effects of low humidity on building occupants. Please contact Dr. Derby if you are interested in collaboration or joining the research group.

Academic Highlights
Dr. Derby has authored and/or co-authored over 20 peer-reviewed journal articles and conference papers, and 1 provisional patent. Dr. Derby was awarded a 2017 NSF CAREER Award, 2017 ASME ICNMM Outstanding Early Career Award, and 2017 KSU College of Engineering Outstanding Assistant Professor Award. She and her students have presented their work at over 20 conferences and meetings, and 4 of her students have won poster presentation awards. Since joining Kansas State University in 2013, she has received research funding from the National Science Foundation, ASHRAE, and industry. She is an active member of ASHRAE and ASME. She was awarded a 2009-2011 NSF GK 12 Fellowship and is a 2014 of the KSU Mentoring Fellowship.