Dale Schinstock | Associate Professor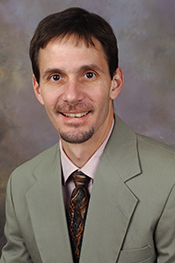 Ph.D. – 1994, University of Kansas
Mechanical Engineering
M.S. – 1992, University of Kansas
Mechanical Engineering
B.S. – 1989, University of Kansas
Mechanical Engineering

Contact Information:
3022 Rathbone Hall
785-532-2608
dales@k-state.edu
schedule

Professional Experience
Dr. Schinstock has held faculty positions in Mechanical Engineering at the University of Alabama (1994-1998), the University of Tulsa (1998-2001) and Kansas State University (2001-present). He has taught and introductory courses in mechanical engineering as well as various classes related to control systems, embedded computer systems, mechatronics, electromechanical systems, kinematics, dynamics, computer programming, measurement and instrumentation, robotics, sensor fusion, aircraft dynamics.
The majority of these courses have included laboratory content and Dr. Schinstock has managed several undergraduate laboratories. Dr. Schinstock has also directed several research laboratories including the Electromechanical Systems Lab and the Robotics Lab at the Universities of Alabama and Tulsa and the Autonomous Vehicle Systems Lab at K-State.
He has also spent time during summers as a consulting or contract engineer with other entities such as Lockheed Martin, NASA, and NORDAM.

Research
Autonomous Vehicle Systems Lab. Dr. Schinstock's research has targeted a broad range of applied research topics in the areas of control of electromechanical systems, robotics, control in precision manufacturing systems, aircraft controls, inexpensive autopilot systems, sensor fusion in aerospace systems, automated generation of digital terrain models from satellite imagery, remote sensing systems in agriculture. The overarching theme of this work is the bridging from theory to application in engineering systems.