David Pacey | Professor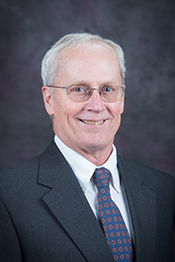 Ph.D. – 1989, Kansas State University
Mechanical Engineering
M.S. – 1979, Kansas State University
Mechanical Engineering
B.S. – 1974, Kansas State University
Agricultural Engineering

Contact Information:
3052 Rathbone Hall
785-532-5610
pacey@k-state.edu
schedule

Professional Experience
Dr. Pacey received his BS degree from K-State in 1974 and then worked at the John Deere Product Engineering Center on hydraulic applications. He returned to K-State in 1977 and completed his MS in 1979 and then returned to John Deere Ottumwa Works to work on hay and forage machinery. In 1980 he was appointed as an Assistant Professor of Agricultural Engineering at K-State and served as the Extension Specialist for Power and Machinery. Simultaneous with this appointment he also completed his PhD in Mechanical Engineering in 1989. In 1988 he joined the K-State Engineering Technology faculty and enjoyed full-time teaching. In 1994 he joined the K-State Mechanical Engineering Department where he was promoted to full professor in 2001. His emphasis is on undergraduate education and he enjoys high-contact classes such as Senior Design and Measurements & Instrumentation Lab. He has also served as the department's Undergraduate Program Director.

Research
Dr. Pacey developed a coefficient model for a hydrostatic transmission. This model could predict the motor output shaft speed and torque given the pump input shaft speed and torque and pump and motor swashplate settings.
He has studied heat transfer in a wet clutch commonly used in powershift transmissions and developed a model that predicts the clutch plate temperature based on operating conditions.

Academic Highlights

Dr. Pacey's main focus is undergraduate education. He has been recognized for outstanding teaching at the college level by receiving the Hollis Award for Excellence in Undergraduate Engineering Education in 1998 and again in 2005. At the university level, he received the Commerce Bank Outstanding Undergraduate Teaching Award in 2006.
He has also been recognized for high quality advising by being awarded the Excellence in Undergraduate Advising Award from the College of Engineering in 1993 and again in 2001. At the university level he received the Presidential Award for Excellence in Undergraduate Advising in 2003.
Pacey served as the overall coordinator for the SAE Mini Baja West competition that brought 100 collegiate design teams from the US, Mexico, and Canada to K-State in 1999, 2000, and 2001. He has served as K-State's SAE chapter adviser for twenty years and received the SAE International Adviser of the Year in 2000.
He was one of ten faculty selected nationwide for the Boeing – A.D. Welliver Faculty Summer Fellowship in 1996.