Zayd Leseman | Associate Professor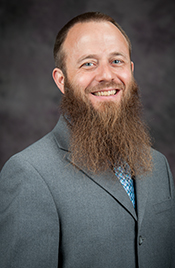 Ph.D. – 2006, University of Illinois at Urbana-Champaign
Mechanical Engineering
M.S. – 2000, University of Illinois at Urbana-Champaign
Mechanical Engineering
B.S. – 1997, University of Illinois at Urbana-Champaign
Mechanical Engineering

Contact Information:
2089 Rathbone Hall
zleseman@k-state.edu
Schedule

Professional Experience
Professor Leseman received his B.S. and M.S. degrees from the Department of Mechanical & Industrial Engineering at the University of Illinois Urbana-Champaign (UIUC) in 1997 and 2000, respectively. After obtaining his M.S., he started his own company in which he designed, fabricated and patented a novel inkjet printhead. Upon conclusion of his entrepreneurial adventure, he returned to UIUC and completed his Ph.D. in May 2006. From 2006 – 2016, Dr. Leseman was at the University of New Mexico as an Assistant and Associate Professor. During his stint at UNM he won his NSF CAREER Award and was awarded more than $5M in research funding. Currently, he is an Associate Professor of Mechanical and Nuclear Engineering at Kansas State University.
Research
Professor Leseman's research focuses on understanding the mechanical, thermal, and electrical properties of nanostructured materials by integrating experimental and computational techniques. Through manipulation of their structure-property relationships he is able to create disruptive nanomaterials for the energy, semiconductor, and defense sectors. As a result of his cutting edge research he produces high impact publications, licensed technologies, startup companies, and partnerships with businesses to develop novel nanomaterial characterization methods.
His two main thrust areas are nanomaterials for energy and the mechanics of nanostructured materials. By nanoscale patterning of semiconductor materials Dr. Leseman's research group has created next generation thermo-electric devices that convert ambient heat into electricity – a sustainable, clean energy solution. This work was featured in the June 2015 issue of Nature Communications. Dr. Leseman's group has also demonstrated that by nanostructuring thin metallic films increases in strength and moduli can be achieved.

Academic Highlights
Professor Leseman has developed an extensive research program as an Assistant and Associate Professor. He has received more than $5M in external funding for his research efforts, including his NSF CAREER Award and other funding from NSF, DOE, AOR, AFRL-Kirtland, NASA, Sandia National Laboratories, Los Alamos National Laboratories, and state funding. With this funding his research group has published extensively in prestigious journals such as Nature Communications, NanoLetters, and Applied Physics Letters. He has more than 80-refereed publications, 24 patents/applications, advised 40 students (past and present), some of whom have become professors, post-docs and built successful careers in industry. His current H-Index is 20 according to Google Scholar.