Kevin Lease | Associate Professor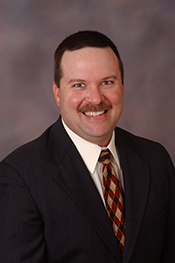 Ph.D. – 1994, University of Iowa
Mechanical Engineering
M.S. – 1990, University of Iowa
Mechanical Engineering
B.S. – 1988, University of Iowa
Mechanical Engineering

Contact Information:
3017 Rathbone Hall
785-532-7018
lease@k-state.edu
schedule
Professional Experience
Dr. Kevin Lease received his Ph.D. from the University of Iowa in mechanical engineering in 1994. He then joined the faculty at K-State. In 1999, Lease was promoted to associate professor in 1999 and assumed the role of the MNE Graduate Program Director in 2001. In 2008, he assumed the position of the associate dean of the Graduate School which he held until 2011. Dr. Lease has served as the chair of the undergraduate program multiple times and has been instrumental in multiple ABET accreditation processes. Dr. Lease has been active in the American Society of Testing and Materials through the Technical Committee E-08 on Fatigue and Fracture and the Society of Automotive Engineeringthough the Fatigue Design and Evaluation Committee.
Research
To support his research, Dr. Lease developed the Mechanical Testing and Evaluation Laboratorywithin the department in 1995. This facility provides has the capability to support experimental and computational research and teaching in the areas of deformation, stress, strain and failure of engineering materials. Through this facility, Dr. Lease has primarily focused on fatigue and fracture of metallic materials in support of the aerospace industry. One significant focus has been on elastic-plastic fracture where characterization, through non-contact imaging techniques, of the crack-tip opening angle has led to a more thorough understanding of how a crack advances through a highly plastic zone. The data generated by Dr. Lease's research group was used in the computational modeling of large fuselage panels in NASA's aging aircraft program. Dr. Lease has also studied fracture at a much smaller level, experimentally evaluating the contact and separation of a compliant polymer on a rigid substrate. This phenomenon was evaluated in the presence of several chemical surface modifications using the JKR contact mechanics technique. In some of the first-of-their kind experiments, these contact and separation forces were studied underwater using the JKR technique.
Academic Highlights
Dr. Lease has supervised numerous research projects funded by a variety of government and industrial sources, including government support through NASA, the U.S. Army, the U.S. Air Force, Department of Energy, and industrial support through Cessna, Raytheon, Boeing, John Deere, Ford, and Benecor. Dr. Lease has co-edited one book, been an invited keynote speaker, put on 4 short courses, authored and co-authored several journal articles and supervised several graduate students. His teaching and research has been recognized by a number of internal and external awards such as the 2004 KSU Myers-Alford Memorial Teaching Award, 2003 KSU MNE Outstanding Educator Award, 2003 Big 12 Conference Faculty Fellowship and the 2002 SAE Ralph Teetor Education Award.