People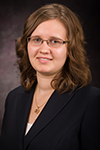 Dr. Melanie Derby, assistant professor and Hal and Mary Seigele Professorship in Engineering, graduated from Rensselaer Polytechnic Institute, in Troy, NY, with a B.S. in Mechanical Engineering in May 2008. She joined an Office of Naval Research-sponsored MURI project at RPI for graduate study, under the direction of Profs. Michael Jensen and Yoav Peles. At RPI, she studied condensation heat transfer and received her M.S. in 2010 and Ph.D. in May 2013.

In August 2013, she joined the faculty at Kansas State University and is interested in multi-phase flows, the Food, Energy, and Water Nexus, and buildings. Dr. Derby is an Assistant Professor and College of Engineering Keystone Research Faculty Scholar. She received a 2017 NSF CAREER Award and 2017 KSU College of Engineering Outstanding Assistant Professor Award. Melanie is an enthusiastic researcher, teacher, and tuba player.
Graduate Students

Xi Chen earned a B.S. in Process Equipment and Controlling Engineering from Wuhan Institute of Technology. He earned his M.S. in 2012 from Wichita State University, where he researched multi-body dynamics and was a research assistant in the Crash Dynamics Lab at the National Institute for Aviation Research. Currently, he is pursuing his Ph.D. in Mechanical Engineering from K-State University in thermal fluids.
Ryan Huber graduated from Kansas State University in May 2016 and joined the CHIL lab as a graduate student.
Jordan Morrow is a senior undergraduate student from Valley Falls, KS. He graduated with a B.S. in Mechanical Engineering and a Minor in Mathematics in December 2016 and is pursuing a Ph.D.

Gennifer Riley graduated in May of 2017 with a B.S. in Mechanical Engineering from Kansas State University and a B.S. in Physics from Washburn University. Future plans for Gennifer include pursuing a graduate degree.
Undergraduate Students
| | |
| --- | --- |
| | Nhicolas Aponte grew up in Holcomb, KS and received his high school diploma from Holcomb High School in 2015. He then attended and graduated from Garden City Community College with an Associate of Science in the spring of 2017. He joined the CHIL lab in the summer of 2017 through the KS-LSAMP research program. Nhicolas plans to pursue a degree in Mechanical Engineering. |
| | Jarrod Booth is a senior undergraduate from Manhattan, KS pursuing a B.S. in Mechanical Engineering with minors in Business and Mathematics, with plans to graduate in December of 2018. He is working with Jordan Morrow studying the characteristics of lower GWP alternative refrigerants. |
| | Nicole Doughramaji is a sophomore undergraduate from Topeka, KS. She joined the lab in Summer 2016, working with Xi Chen studying how a flapping motion affects water droplet coalescence and departure on flexible films. She plans to graduate with a B.S. in Mechanical Engineering in May 2019. |
| | Giselle Guanes is a senior in Mechanical Engineering from Asuncion, Paraguay. She joined the lab during the Summer 2017, working with Ryan Huber studying droplet condensation on hydrophobic surfaces. She enjoys spending time with friends, taking pictures, and playing music. |
Alumni
| | |
| --- | --- |
| | Kevin Bultongez joined the team in summer of 2014 as a research assistant and graduated with his B.S. in Mechanical Engineering in May of 2015. He is currently an M.S. student in the CHIL lab. Originally from the Democratic Republic of the Congo, he received his H.S diploma from Plano East Senior High in Dallas, Texas. He is currently working in the industry in Kansas City. |
| | Jacob Dunshee graduated in December of 2015 with a B.S. in Mechanical Engineering. He joined the lab in Summer 2015 and worked with Kevin Bultongez studying oil and water flows. |
| | Maryam Hamehkasi received her B.S. in Agricultural Engineering in 2006 in Iran from Bu-Ali sina University. She was an M.S. student from 2014-2015. |
| | Eric Kerschen worked in the CHIL lab from 2014-2015. He graduated in May 2015 with a B.S. in Mechanical Engineering and a Minor in Mathematics. |
| | |
| | Devon Vogts worked in the CHIL lab from 2014-2015. He graduated with his B.S. in Mechanical Engineering in May 2015. |