Bruce Babin | Instructor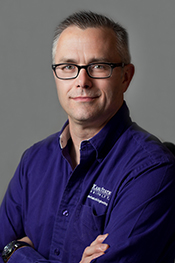 Ph.D., 1998 University of Arizona
Mechanical Engineering
M.S., 1991 - Texas A&M University
Mechanical Engineering
B.S., 1988 - Texas A&M University
Mechanical Engineering
Contact Information:
3041 Rathbone Hall
785-532-2609
babin@k-state.edu
Schedule

Professional Experience
Dr. Bruce Babin began his professional career as intern at Digital Equipment Corporation in Palo Alto, California in 1996, where he developed multiphase cooling systems for portable computers. In 1996, Babin began working as a thermal analyst for Raytheon Missile Systems. Babin contributed on a variety of defense programs including side-mounted IR sensor domes, liquid fuel tanks with continuous flow in multi-G environments, and numerical modeling techniques for electronic modules in multi-physics environments. He was awarded a patent for his concept of Thermal Ground Planes in Tactical Missiles.
Babin initially came to K-State in 2003 as an assistant professor of mechanical and nuclear engineering. He directed the MNE Heat Transfer Lab and participated in many research topics including two-phase impingement cooling with ammonia, optimization of residential dryers using surface tension elements, effects of duct fittings on velocity measurement accuracy, impacts of tube pitch in surface tube bundles, and spray cooling of high temperature surfaces. In addition, Babin excelled in the classroom, being named the 2005 MNE Outstanding Educator and the 2007 James L. Hollis Award recipient for excellence in undergraduate teaching. In 2008, Babin left the university to focus on his family.
In 2011, Babin was asked to lead an Industrial Robotics Lab at Highland Park High School in Topeka. He developed a complete curriculum for training high school students in automation techniques. His program was the first secondary school program to be certified by Motoman Robots for the DX100 Programming and DX100 Advanced Programming courses.
Babin returned to the department in 2013, and focuses on undergraduate education and strives to make the MNE curriculum a little bit better every year. Throughout the years, he has continued to serve as an industry consultant as a thermal analyst, education specialist and robotics programmer.
Research
Babin's research is focused on improving engineering education. His current projects include integrating 3D Printing into the engineering graphics course and improving instruction in large service courses.
Academic Highlights
Babin received a bachelor's degree in mechanical engineering in 1988 from Texas A&M University. He immediately entered a master's program that included a 9-month residence in the Ruhr University in Bochum, Germany. He completed his Master's thesis involving Ion-Drag Pump enhanced Heat Pipes in 1991 from Texas A&M University. He then became a Ph.D. candidate at the University of Arizona, which he completed in 1998. During this time, Babin served as an adjunct faculty member at Pima Community College and as a lecturer for the University Learning Center.