Program Accreditation and Information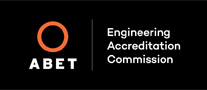 The Bachelor of Science (B.S.) in mechanical engineering at Kansas State University is accredited by the Engineering Accreditation Commission of ABET, http://www.abet.org.
ABET is a not-for-profit, non-governmental accrediting agency for programs in applied science, computing, engineering, and engineering technology, and we are recognized as an accreditor by the Council for Higher Education Accreditation.
ABET accreditation provides assurance that a college or university program meets the quality standards of the profession for which that program prepares graduates. In addition, the accreditation process:
Assures that graduates of an accredited program are adequately prepared to enter and continue the practice of applied science, computing, engineering, and engineering technology
Stimulates the improvement of technical education
Encourages new and innovative approaches to technical education and its assessment
Mission Statement
The mission of the department of mechanical and nuclear engineering is to (1) provide rigorous and challenging educational experiences at both the undergraduate and graduate levels to enable students to attain their full potential, (2) conduct scholarship that is of national and international repute to generate new knowledge and technology for the benefit of society, and (3) provide service through outreach programs to our profession, Kansas, the nation, and the world.
Adopted Oct. 8, 2015
Mechanical Engineering Program Educational Objectives
Program educational objectives are broad statements that describe what graduates are expected to attain within a few years after graduation. Program educational objectives are based on the needs of the program's constituencies.
Graduates will apply technical knowledge and skills in their chosen profession or advanced study to the greater benefit of Kansas, the nation, and the world.
Graduates will utilize effective communication and team skills to work productively within their professions and communities.
Graduates will demonstrate integrity, responsibility, and accountability in their professional activities.
Graduates will participate in life-long learning and professional development.
Approved Oct. 8, 2015
Mechanical Engineering Student Outcomes
Student outcomes describe what students are expected to know and be able to do by the time of graduation. These relate to the knowledge, skills and behaviors that students acquire as they progress through the program. The mechanical engineering program will enable students to attain the following, by the time of graduation:
a. An ability to apply knowledge of mathematics, science and engineering
b. An ability to design and conduct experiments, as well as to analyze and interpret data
c. An ability to design a system, component or process to meet desired needs within realistic constraints such as economic, environmental, social, political, ethical, health and safety, manufacturability, and sustainability
d. An ability to function on multidisciplinary teams
e. An ability to identify, formulate and solve engineering problems
f. An understanding of professional and ethical responsibility
g. An ability to communicate effectively
h. The broad education necessary to understand the impact of engineering solutions in a global, economic, environmental and societal context
i. A recognition of the need for and an ability to engage in life-long learning
j. A knowledge of contemporary issues
k. An ability to use the techniques, skills and modern engineering tools necessary for engineering practice
Information on undergraduate enrollment and degrees awarded can be found on the following pages: